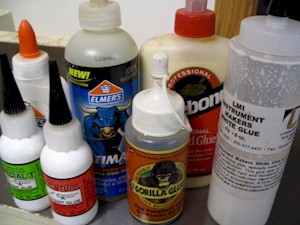 Not all glues that are popular for woodworking are necessarily the best for instrument making, and especially making a bowed psaltery. The objectives and goals are slightly different in the two situations; while it's true that in both instances the goal is to stick two pieces of wood together, some other questions arise:
I think you get the picture. While there have been all sorts of advances made in woodworking glues for making things like furniture and crafts, (IE – water resistance, extended open-time, and colored glues), many of these very same specialty glues are among the worst for making musical instruments. 
One of the most important factors in musical instrument building, and psalteries specifically, is creep resistance. That is to say: creep is a glue's tendency to slowly pull apart when put under a continuous load, as is the case with a bowed psaltery.
So with exterior and waterproof wood glues, (like Titebond II and Titebond III), which are great for building furniture, their special water-resistance and other attributes frequently come at the cost of creep resistance. Supposedly, chemicals added to the glue can inhibit them from fully hardening, and this therefore decreases their strength when put under a constant load.
Just what glues can/should be used for building a bowed psaltery? 
Well, in all honesty, you can really use just about any/all types of glues, even ones like Titebond, with varying degrees of success. A lot will depend on how well you have joined the frame and top/bottom together. Some glues are more forgiving than others at filling small gaps between the pieces to be joined. (When I rate how good a glue is at gap filling, I'm not rating how good it is at simply filling in the gap, but how much strength it is actually able to impart when bridging that gap. It has nothing to do with aesthetics and everything to do with strength.)
Nonetheless, using the right kind of glue (and understanding how to use it properly) can go a long way in increasing the strength and longevity of your psaltery. Some glues that I've either used personally, or have heard to be good in regards to creep resistance are:
(Note: polyurethane was the type of glue used to build the psaltery for this project.)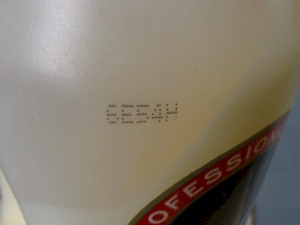 I hope this section has helped inform you as to the many choices of glues for making your "psimple psaltery." The heart of the matter is this: use good joinery – to the best of your abilities. Don't rush through things. And, if you still can't get the joints perfect, at the very least read and follow the manufacturer's instructions carefully for any of the glues – you don't want to compound the problem! Epoxy will do the best job in making up for deficiencies in joinery, but nothing can bail you out of complete sloppiness. 
One last thing that you can consider if you've glued your frame together, and you're worried about its long-term integrity is to use lighter gauge strings to minimize the pull on the frame.
In my opinion, there really is no one perfect glue, but each person uses what works best for their situation. I hope I've given you a balanced look at all the options as they pertain to the bowed psaltery.