I recently got a new toy for use in building psalteries, and it works so well, I thought I'd write a review of it: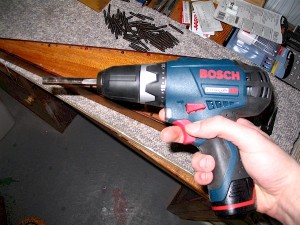 It's a new cordless drill from Bosch. It's closely based on their incredibly successful PS20 Pocket Driver. But this time around, they've added something that's indispensable to me: a chuck.
Having read all of the positive reviews, and having tested it out a few times at the local hardware store, I was well aware that the PS20 is a great drill. But, one of the main features I was looking for in a drill like this was the ability to drive in tuning pins: this meant that it would have to be able to grip the modified tuning wrench shaft that I use, not to mention the substantial torque required to drive in these pins. (The driver bit is simply the shaft of a T-handle tuning wrench, with the handle stripped off.) But, the 1/4″ quick-change socket on the PS20 prevented its use.
Looking at the pictures above and below, you can see that the new PS30 Cordless Drill has no problems gripping my specialized driver: owning to the fact that the PS30 has a 3/8″ keyless chuck.
To the left you can see how the drill is used to drive the tuning pins into the psaltery's body. Previously, I had used a much bigger (and heavier) 18v NiCad cordless drill to accomplish this task. Considering that this new drill has nearly the same amount of torque, (driving these pins in requires quite a good deal of torque from the drill), but weighs only 2.2 pounds (!), now I can consecutively drive all 60 pins without stopping due to discomfort or fatigue. (You wouldn't think of it, but holding an 18-volt, 5-pound brick for a drill can get quite tiring rather quickly!)
Plus, because of the chuck, I can use it for a lot of other odd jobs with non-standard bit sizes: like 6mm brad point, etc. As soon as I read about the release of the PS30, I knew it would be perfect. To me, it really replaces two tools: the PS20, (which thankfully I hadn't bought yet), and my older 18v cordless drill. (I still have my bigger 18v drill on hand for really tough jobs, but for the vast majority of the time, I find the PS30 superior.)
So, since the PS30 has replaced two tools for me, here's my breakdown as to its advantages over both types of tools:
Bosch PS30′s Advantages over PS20 and other "Pocket Drivers"
3/8″ Keyless chuck allows you to grip a much wider variety of bits and drivers, you're no longer limited to just 1/4″ hex shank
Two-speeds allows this drill to be used to drill holes much faster than other drivers, as it can spin at up to 1,100 RPMs
Develops more torque in low-speed mode than most other drivers in its class: 221 inch-pounds of torque! (More than the PS20 and Milwaukee's M12 Sub-Compact Driver.)
Bosch PS30′s Advantages over Larger Cordless Drills
Much smaller and lighter, without much sacrifice in terms of speed and torque: 0-380 rpm in first gear, 0-1,100 rpm in second gear; 221 inch-pounds of torque
New lithium ion battery technology can be recharged at any time, (i.e., trickle charge), without any memory effects
Batteries stay charged longer in between long periods of inactivity. So if it's unused for several months, the batteries will still be at full charge and ready to go.
Compact design lets you get into tighter spaces that other drills cannot
Only weighing 2.2 pounds can signifcantly reduce user fatigue if you are doing a lot of repetitive tasks (I know this quite well firsthand)
This is just about the best drill I've owned or used. Since I originally got it, I've only had to reach for my bigger drill a couple of times, and that was because I needed the capacity of a 1/2″ chuck rather than a 3/8″. My only other complaint is that it would be nice to have some sort of on-board driver-bit storage. I like to have a #2 square driver and either a torx or a phillips on-board the drill at all times.