My latest project isn't quite a bowed psaltery, but it's rather an edge sander… which will help me make more psalteries. :-)
Below are some pictures of the progress so far.
All this is via plans from PlansNow.com. So far, I'd highly recommend buying these plans: everything seems to be solid and well-designed.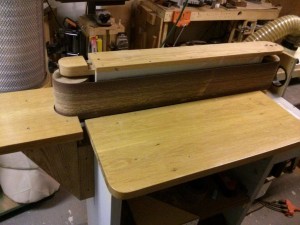 Some things I'd do differently if I could rewind the tapes:
(1) solid flatsawn oak tables is overkill, and isn't stable.
(2) use bigger knob to remove tension on the belt/core, the current one takes two hands to turn.
(3) true up the two MDF pulley stacks better to reduce vibration.